Hemker Park and Zoo, located in Freeport, Minnesota, is a family owned and operated zoo home to over 200 animals. The mission of Hemker 
Park & Zoo is to highlight and enhance animals' species and encourage environmental conservation through integrated partnerships and practical approaches to wildlife management. What began as a simple dream in 1977 has grown to give families up close access to more than 50 different species from around the globe.
Conservation is at the core of everything they do as a zoo, so when the Exotic Feline Breeding Compound (EFBC), a nonprofit in California was forced to close its doors in February of 2023 due to financial hardship, the owners of Hemker Park & Zoo stepped up. EFBC was home to over 200 feline species that are all endangered or approaching extinction, and all 200 of them had to be rehomed within a matter of weeks. 
Hemker Park & Zoo made the decision to help the EFBC by taking in three male Pallas Cats and a male Amur Leopard, as the cool climate of Minnesota is very suitable to both of these breeds. Pallas cats are classified as "near threatened," with thousands in the wild at risk of being hunted for their fur. Amur Leopards are classified as "critically endangered" with only around 100 left in the wild, primarily in Russia and China, and only 180 living in captivity. "Being able to rehome these exotic wild cat breeds is a great feeling, and we are excited to teach the Central Minnesota area more about them," said Joan Hemker, one of the owners of Hemker Park & Zoo.
The Hemker staff has the knowledge, experience, and resources to care for these felines, but taking on these endangered cats has added unexpected financial expenses for the 2023 budget. The zoo will be constructing two new outdoor and indoor feline areas. The new areas incorporate five standards of welfare of nutrition, environment, health, behavior, and mental status. The Pallas Cat area will cost approximately $45,000 to construct, while the enclosure for the Amur Leopard will be about $62,000.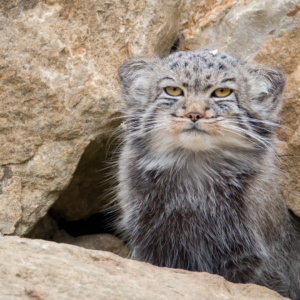 Donations for the construction of these vital habitats are being accepted through Hemker's 501(c)3, the Guardians of Conservation. Emily Bertram is a board member of the Guardians of Conservation. "The staff of Hemker Park & Zoo heard that there was a need, and didn't even hesitate to rise to the task," Bertram said. "They know how important it is to take care of these endangered cats, and we're fortunate to have a zoo in the area that is so focused on conservation." For more information on donating to these habitats, click here.
Each year, thousands of youth groups, families and animal lovers get to experience majestic creatures from all over the world up close at Hemker Park and Zoo. Now one of the rarest cats in the world will call Freeport, Minnesota home. The goal of the owners of Hemker Park & Zoo is always conservation first, and providing the best habitat possible for these wild cats is crucial to ensuring that they thrive.
Hemker Park & Zoo opens up for the 2023 season on May 1st, so start planning your trip now to see these amazing cats and much more right here in Central Minnesota.